Today I am going to share a winter special dish; it is called Corn & herb Pulao with Paneer, This recipe highly nutritive with all the herbs and corn in it, Corn contains folic acid,Vitamin C,and insoluble fibre, along with Ajwain it helps us to tackle some common digestive problems,this recipe contains vitamin a and vitamin c , minerals such as iron, copper and calcium.
We will also put some dry fruits to make it super healthy 🙂 . As the name says it also contains herbs like Ajwain mint etc. You'll need roughly about 50 minutes to make this dish.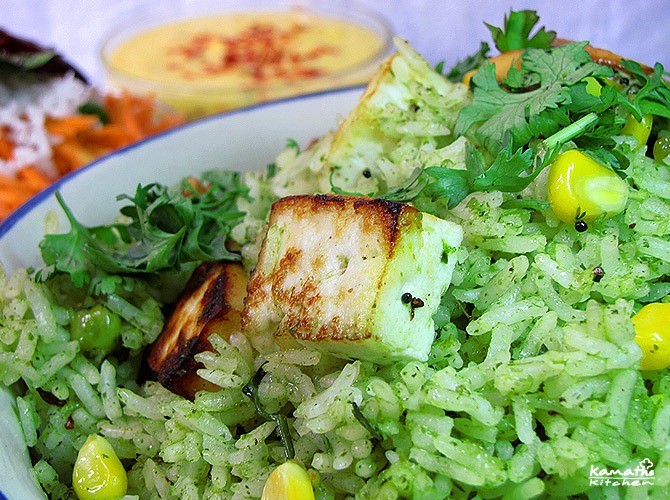 So what are we waiting for lets get started. The ingredients we will require for this dish are listed below :
Ingredients
Basmati Rice – 2 Cups (soaked for 30 minutes – this is important see note below )
Sweet corn kernels – 1/2 cup,
matar (shelled peas) – 1/2 cup,
raisin –15,
fresh Ajwain leaves two or three,
5 cashews (halves),
fresh mint leaves two or three,
Curry leaves (kadi-patta) – 10 leaves
green chillies – 6
ginger – 1 inch piece
Curd – 1 tbsp.
ghee – 2tsp.
coriander leaves 1/2 cup – chop these finely
coconut scraped – 2 cup,
1 whole lemon juice,
Garam masala powder – 1/4,
Turmeric Powder 1/2 tsp.
Green Chutney – 1 tsp.
Paneer – 1/2 cup
cumin seeds – 1/2 tsp.
mustard seeds 1/2 tsp.
salt to taste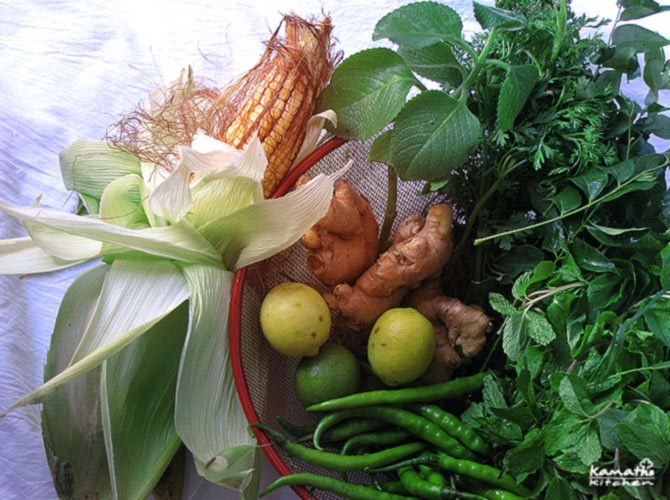 Ok once you have got all the above ingredients here's the real deal – the method (step by step guide) :
Method:
First we will make the masala. Put the coconut, ginger, chillies, and all the leaves (mint, Ajwain, Kadi-patta) in a mixer and grind into fine paste.
Take a frying pan and put ghee in it allow it to heat.
Fry the cashew nuts till they get golden yellow in colour. Remove and keep aside.
Fry the paneer cubes in the same ghee till they get golden yellow in colour. Remove and keep aside.
Add mustard seed in the pan and wait till it starts spluttering, now add cumin seeds and the paste or masala that you made in step 1.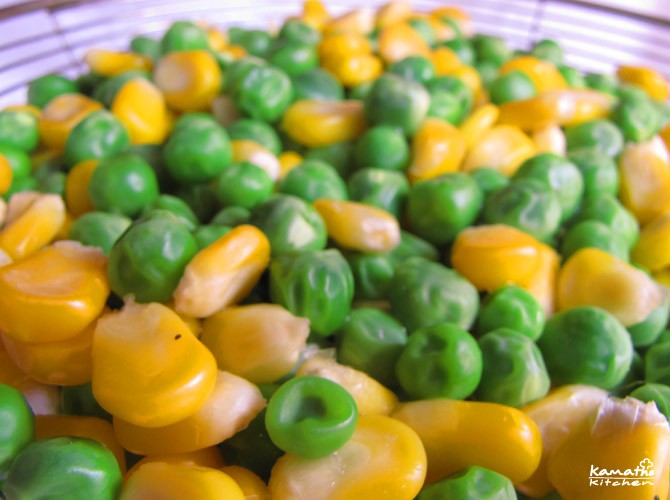 Add the green chutney, matar, corn, curd, raisins and sauté for about a minute.
Now we going to add the rice (drained), before adding rice just mix the ingredients in the pan nicely. After adding rice stir it for about 2 minutes.
We may now add Garam masala, turmeric lemon juice and salt.
Now we should cook this by adding 4 cups of hot water. Cook till water gets evaporated.
Now mix the Paneer cubes.
Garnish with coriander and cashews and serve hot along with Kadhi and carrot salad.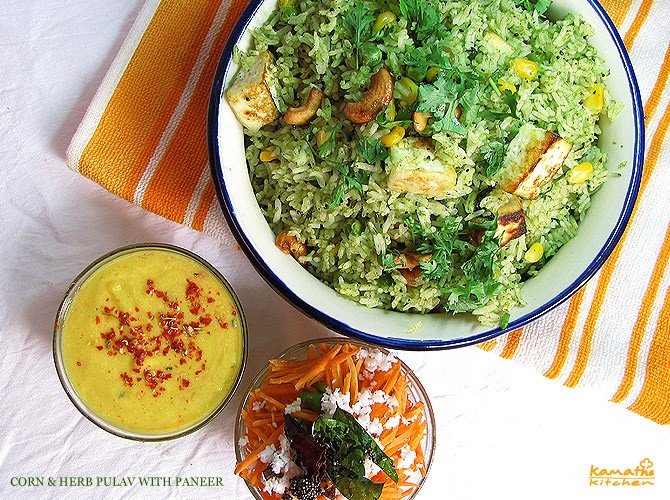 Note – Basmati rice and long grain rice needs to be soaked in water for 30 minutes for better results also add some salt while soaking.
I am sure you will enjoy this dish. Please email me and tell me about your experience cooking this recipe.