I saw a jackfruit in the market today and I instantly thought of making two delicious Konkani recipes – Kadgi Chakko (jackfruit side dish) and Kadgi Adgai (instant jackfruit pickle)
I am going to share them one by one. Let's start with Adgai first, it's an instant pickle which can be served with Idli, Dosa lunch dinner anything. It doesn't have long shelf life as there are no preservative added but it may last for about half a month. It is quite a simple recipe and requires approximately an hour to prepare.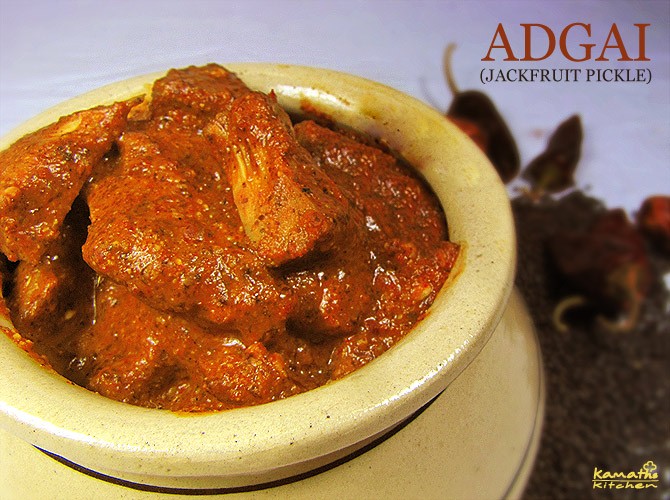 Adgai is used as a condiment like many other pickles; it is one my favourite pickle too.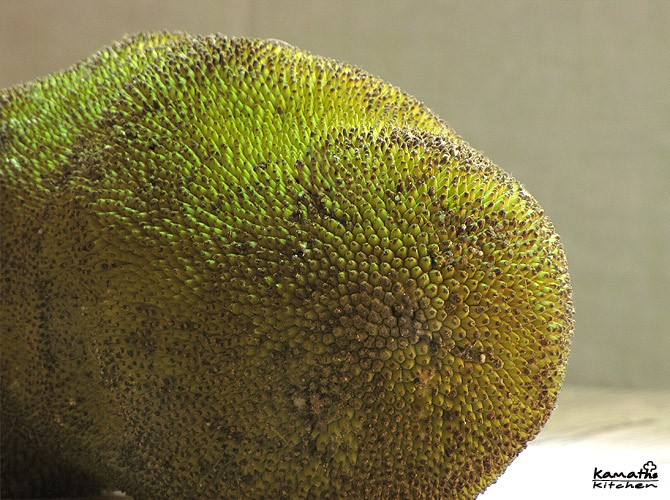 For preparing Adgai you will require the following ingredients:
Ingredients
One Small Jack fruit (raw).
1 raw mango.
Red chillies – 150 grams.
Mustard Seed – 100 grams.
Coriander seeds – 1 tbsp.
Methi seeds (Fenugreek seeds) – 1tsp.
Asafoetida – ¼. tsp.
Sea salt – 100 grams.
Turmeric – ¼ tsp.
Water – 1 ltr.
And without wasting any time here goes the step by step method to prepare this delicious pickle:
Method
Wash the mango clean and chop it into medium sized pieces. Make sure to wipe the mango after washing, there shouldn't be water remaining on it.
Take one litre water and add salt to it, boil it for about 5 minutes.
Remove water from heat and add the mango slices to it immediately. Keep the vessel aside.
Cut the jackfruit into medium sized pieces (You should apply oil to your hands and the knife as the sticky latex is very hard to clean and sometimes can be frustrating).
Put it in a cotton or muslin cloth and steam it. It will take approximately 15 minutes to cook. Remove from heat and allow it cool.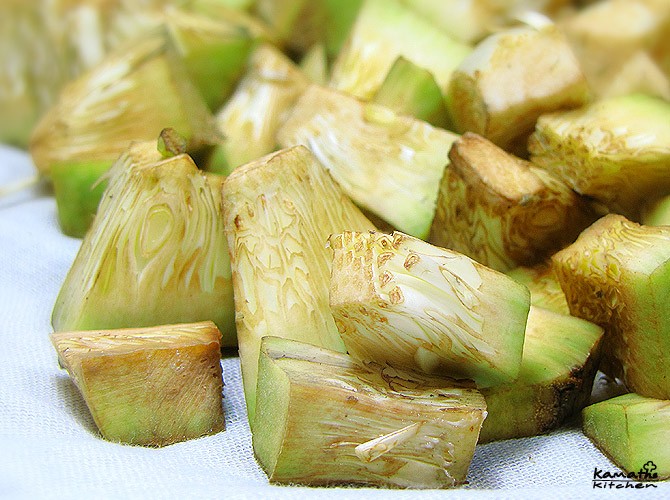 Take a frying pan. Fry the red chillies, mustard seeds, coriander seeds, asafoetida and turmeric one at a time and keep them separate.
Now it's time to grind the above ingredients, Remove the mango slices from the salt water, we will use this salt water to grind the ingredients. First add the red chillies in the grinder and grind it to fine paste, then add all the other ingredients and grind again. The reason for adding the chillies first is to retain the spicy flavour; this is what my mother told me. I always thought this is a silly reason but it works.
Mix the cooked jackfruit pieces, mango and the masala that we made in a vessel. Mix it really well and store it in a jar.
You can try it immediately but I suggest you wait for one day. This allows the mango and jackfruit to absorb the pickle masala better. Remember patience is the secret of good cooking.
I am sure you will enjoy this dish. Please email me and tell me about your experience cooking this recipe.